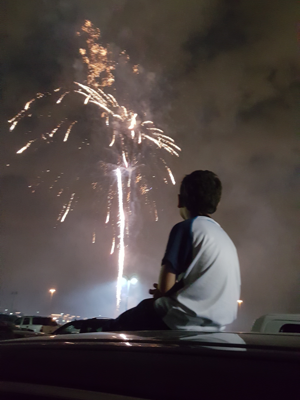 Optimism is the faith that leads to achievement. Nothing can be done without hope and confidence.
About Evan's Avengers
In May of 2016 my son, Evan was diagnosed with Acute Biphenotypic Leukemia, as he had both Acute Lymphoblastic Leukemia as well as Acute Myeloid Leukemia.  For 3 years, Evan had numerous surgeries, pokes, prodding, IV's, blood and platelet transfusions, two Bone Marrow Transplants, GVHD, infections, and then some. He has had so many different chemotherapy medications and Total Body Irradiation, which have saved him. However, they carry current and possible future side effects. I made a promise to my son that I would start this foundation to help fund research to end Childhood Cancer.
With more than 12 major types of pediatric cancers and over 100 subtypes, childhood cancer should not be considered rare.  Each day 43 children, more than a classroom, will be diagnosed with some form of cancer and are at risk of a high mortality rate. Many will later suffer from secondary cancer due to medication used to save their lives. The National Cancer Institute receives its budget from the United States Congress as part of the federal budget process through appropriations for the Department of Health and Human Services and the National Institute of Health (NIH). Despite of this, only 4% of federal government cancer research funding goes to study pediatric cancer, that's just 4¢ on the dollar.  We must write our Congressman and plead them to increase this budget. Make some noise with us and #GoGoldforchildren #GoldStrong #Gogoldforevansavengers
See more ways you can make a difference by visiting our Get Involved page.
Christine Jurgensen
CEO/ Founder Evans Avengers Foundation
501c3  EIN 82-5425094
Be an avenger
Our children are worth more than the 4% allocated towards childhood cancer research, they are worth more than the four drugs that have been approved in the first instance for use in children since 1980. We welcome you to help us make a difference.
JOIN OUR CAUSE